Deadline for 1st Round, November 15th 2020
COVID-19 Update, October 10th, 2020
Da die aktuellen Entwicklungen in Bezug auf das Corona-Virus eine endgültige Planung des Wettbewerbs erschweren und uns die Gesundheit aller Teilnehmer besonders am Herzen liegt, wägen wir derzeit Alternativen ab, wie z.B. auch das Semifinale im März 2021 als Online-Wettbewerb abzuhalten.
Genauere Informationen dazu werden nach dem 1. November veröffentlicht. Wir hoffen dennoch, dass die Final-Runde im April 2021 live in Bamberg stattfinden kann. Auch hier wäre jedoch bei anhaltendem Infektionsgeschehen eine Verschiebung auf einen späteren Termin oder sogar eine Austragung online denkbar.
Since the recent developments concerning the coronavirus make planning our competition rather hard and we deeply care about the well-being of all participants, we are currently discussing alternative options, e.g. keeping the idea of an online competition also for the semi-finals in March 2021.
Detailed information will be available after 1st November. We sincerely hope that the final round in April 2021 can take place live in Bamberg. In case of an ongoing pandemic in spring next year, it might be possible that the finals will be re-scheduled to a later date or also be held online.
Marimba Festiva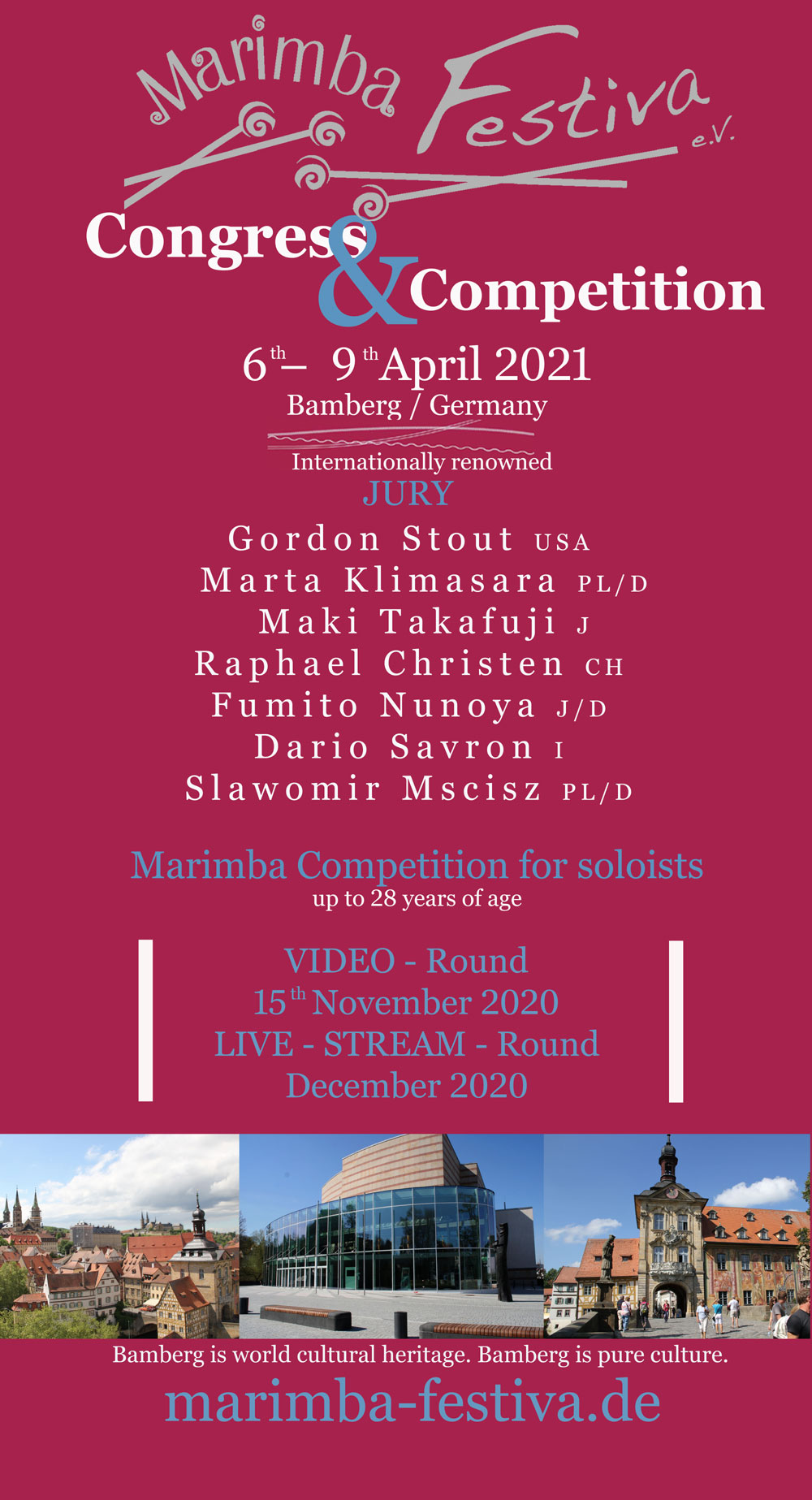 Edition 2021 · Marimba-Festiva · Competition 2021 – Bamberg
Marimba Festiva Wettbewerb 2020-2021
Bis 28 Jahre
Video Runde – bis 15. November 2020
Live-Stream Runde – Dezember 2020
Präsenz -Wettbewerb von 6. bis 9. April 2021
Geld-, Sach-, und Konzertpreise im Wert von 12.000 €
Der öffentlich ausgeschriebene Wettbewerb richtet sich an junge Marimba-Solisten und wird in 5 Altersgruppen (bis 28 Jahre) ausgetragen.
Der Marimba Festiva Wettbewerb ist ein Online- und Präsenz-Wettbewerb, in dem eine Video-Runde, eine Live-Stream Runde und eine Präsenz-Runde eingesetzt werden. Der Präsenz-Wettbewerb ist am 6. – 9. April 2021 Bamberg geplant. Änderungen aufgrund der Corona-Pandemie sind vorbehalten.
Die Anmeldung sowie die Teilnahmegebühr erfolgen für jede Runde seperat. Mitglieder der Marimba Festiva Association erhalten 50% Ermäßigung für die Teilnahme am Präsenzwettbewerb in Bamberg 2021. Marimbaliteratur mit Audio – Begleitung kann nur während des Präsenz – Wettbewerbs in Bamberg gespielt werden.
Marimba Festiva Competition 2020-2021
Up to 28 years old
Video Round – until 15th November 2020
Live – Stream Round – in December 2020
Live Competition – 6th – 9th April 2021 in Bamberg, Germany
Prizes of total value of max. 12.000 €
The competition is targeted at young Marimba Soloists and is aimed at five age groups up to 28 years old.
The Marimba Festiva Competition is an online and live competition where is Video round, Live-Stream round and Live Competition in Bamberg included. The Live – Competition will be held in Bamberg, Germany from 6th until 9th April 2021
Changes because of the Corona – Pandemic are possible!
Separate Registration and separate Fee for each Round.
50% discount for the Members of Marimba Festiva Association (Live Competition in Bamberg)
Marimba pieces with Audio – Accompaniment can be performed just during the Live – Competition in Bamberg 2021
Marimba Festiva
International Marimba Festiva Congress and Competition @ "Bamberg 2018"
International Marimba Festiva Congress and Competition @ Bamberg 2016
International Marimba Festiva Congress and Competition @ Bamberg 2014