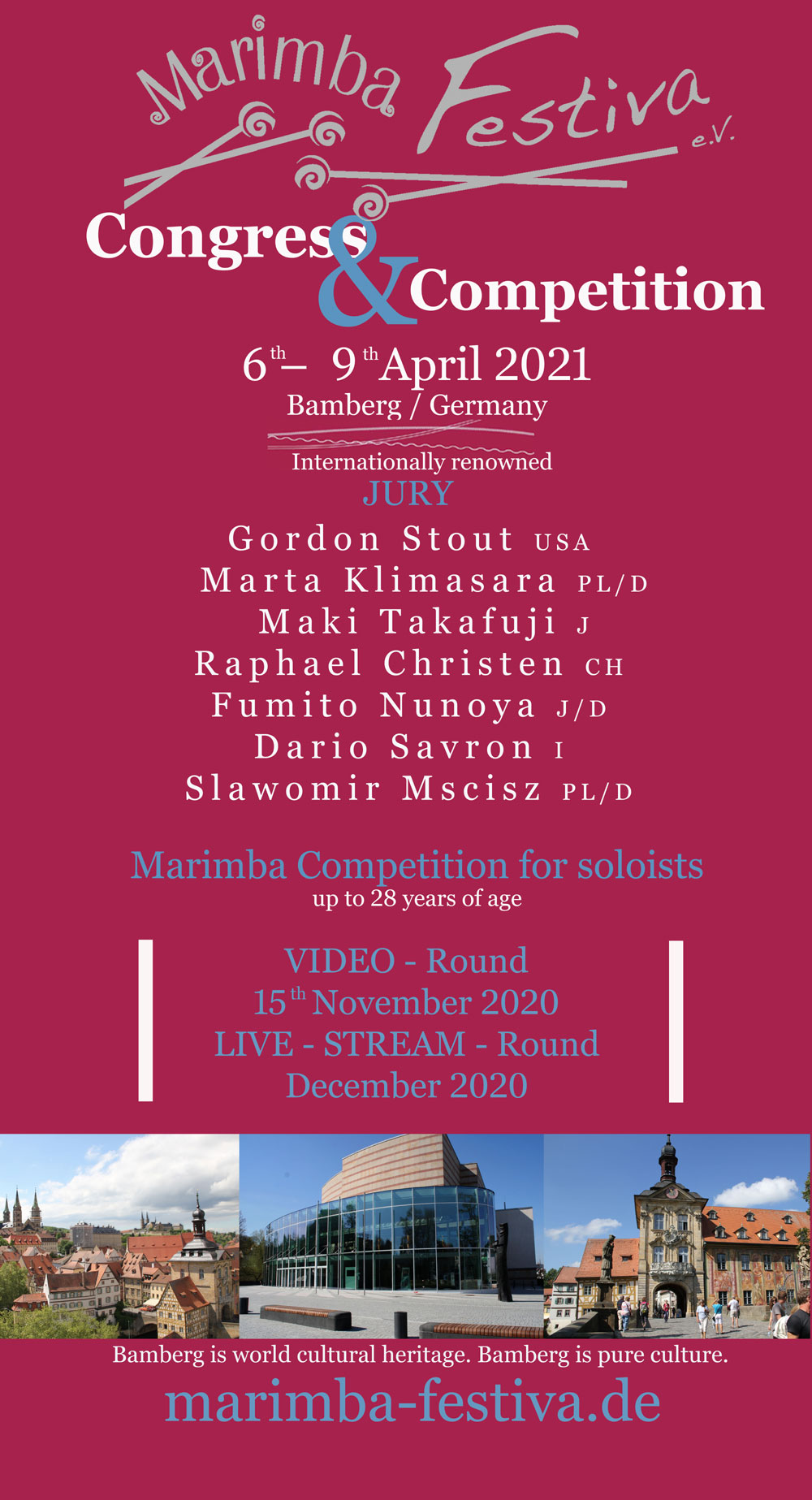 Edition 2021 · Marimba-Festiva · Competition 2021 – Bamberg
Marimba Festiva Wettbewerb 2020-2021
Bis 28 Jahre
Video Runde – bis 15. November 2020
Live-Stream Runde – Dezember 2020
Präsenz -Wettbewerb von 6. bis 9. April 2021
Geld-, Sach-, und Konzertpreise im Wert von 12.000 €
Der öffentlich ausgeschriebene Wettbewerb richtet sich an junge Marimba-Solisten und wird in 5 Altersgruppen (bis 28 Jahre) ausgetragen.
Der Marimba Festiva Wettbewerb ist ein Online- und Präsenz-Wettbewerb, in dem eine Video-Runde, eine Live-Stream Runde und eine Präsenz-Runde eingesetzt werden. Der Präsenz-Wettbewerb ist am 6. – 9. April 2021 Bamberg geplant. Änderungen aufgrund der Corona-Pandemie sind vorbehalten.
Die Anmeldung sowie die Teilnahmegebühr erfolgen für jede Runde seperat. Mitglieder der Marimba Festiva Association erhalten 50% Ermäßigung für die Teilnahme am Präsenzwettbewerb in Bamberg 2021. Marimbaliteratur mit Audio – Begleitung kann nur während des Präsenz – Wettbewerbs in Bamberg gespielt werden.
Marimba Festiva Competition 2020-2021
Up to 28 years old
Video Round – until 15th November 2020
Live – Stream Round – in December 2020
Live Competition – 6th – 9th April 2021 in Bamberg, Germany
Prizes of total value of max. 12.000 €
The competition is targeted at young Marimba Soloists and is aimed at five age groups up to 28 years old.
The Marimba Festiva Competition is an online and live competition where is Video round, Live-Stream round and Live Competition in Bamberg included. The Live – Competition will be held in Bamberg, Germany from 6th until 9th April 2021
Changes because of the Corona – Pandemic are possible!
Separate Registration and separate Fee for each ages group.
50% discount for the Members of Marimba Festiva Association (Live Competition in Bamberg)
Marimba pieces with Audio – Accompaniment can be performed just during the Live – Competition in Bamberg 2021
Marimba Festiva
International Marimba Festiva Congress and Competition @ "Bamberg 2018"
International Marimba Festiva Congress and Competition @ Bamberg 2016
International Marimba Festiva Congress and Competition @ Bamberg 2014