Timetable of the Marimba Festiva Competition 2021
2nd Round (AG 2,3,4 and 5)

January 24th, 2021 – Deadline for the registration
25th – 31st January – Preparation of the Video Files

1st – 13th February – Evaluation Phase (Jury)

February 14th, 2021- Announcement of the Results


3rd Round – (AG 4 and AG 5)

March 10th, 2021 – Deadline for the registration
11th – 15th March- Preparation of the Video Files
16th – 20th March – Evaluation Phase (Jury)

March 20th – Livestream of the recordings (AG 4 and AG 5)
March 21st, 2021 – Announcement of the Results
4rd Round – Final (AG 1,2,3,4 and AG5)

March 31th, 2021 – Deadline for the registration
31st March – 4th April – Preparation of the Video Files
5th – 6th April – Consultation with Jury

7th April – Livestream – Recordings of the AG 1a and 1b

8th April – Livestream – Recordings of the AG 2 and AG 3
9th April – Livestream – Recordings of the AG 4 and AG 5


Winner's ceremony (online) – 18th April 2021
Marimba Festiva
Marimba Festiva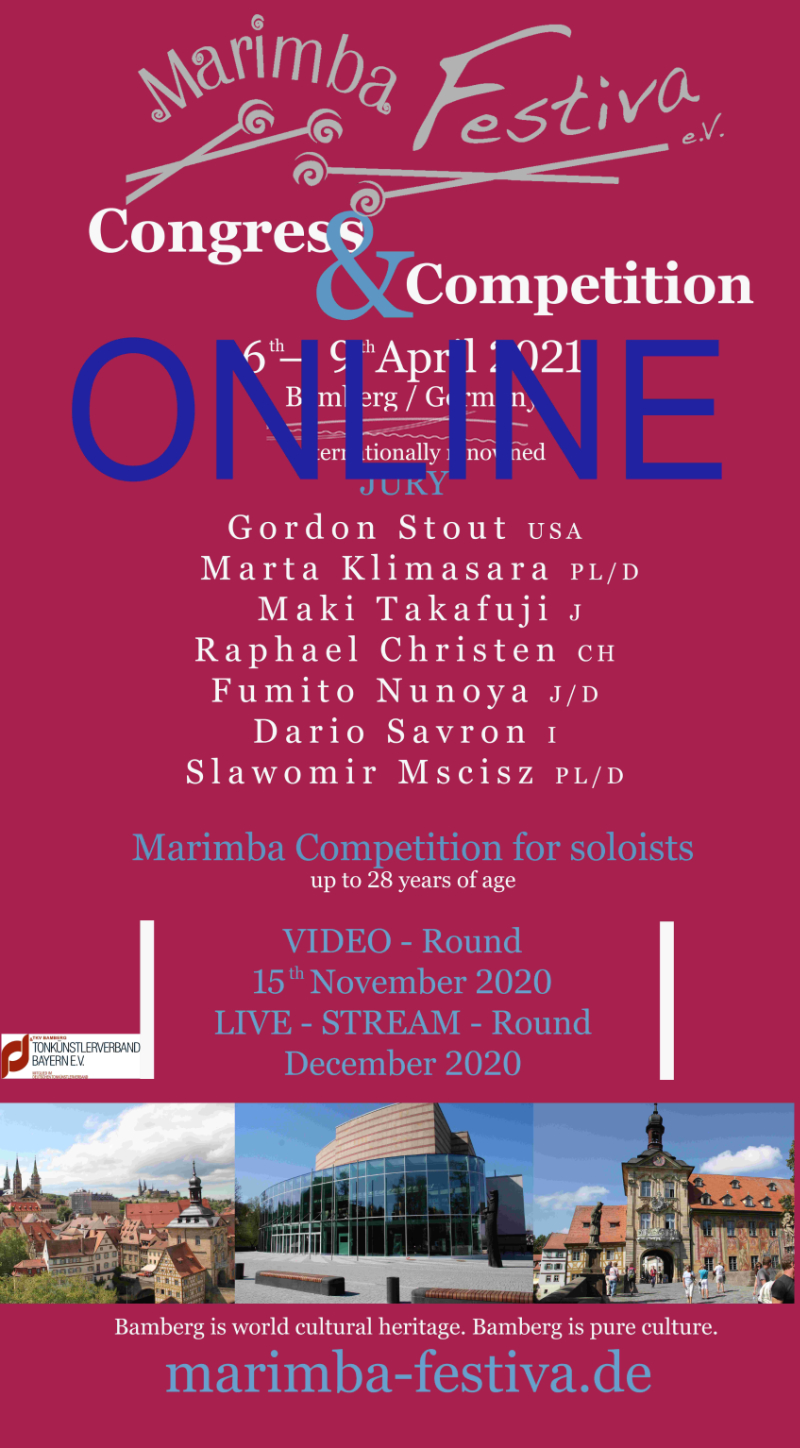 Edition 2021 · Marimba-Festiva · Competition 2021 – Bamberg
Marimba Festiva Wettbewerb 2020-2021
Bis 28 Jahre
Geld-, Sach-, und Konzertpreise im Wert von 12.000 €
Der öffentlich ausgeschriebene Wettbewerb richtet sich an junge Marimba-Solisten und wird in 5 Altersgruppen (bis 28 Jahre) ausgetragen.
Der Marimba Festiva Wettbewerb ist ein Online-Wettbewerb.
Die Anmeldung sowie die Teilnahmegebühr erfolgen für jede Runde seperat. Mitglieder der Marimba Festiva Association erhalten 50% Ermäßigung für die Semi- Finalrunde. Marimbaliteratur mit Klavier- und Audio – Begleitung kann beim Online Wettbewerb nicht gespielt werden.
Marimba Festiva Competition 2020-2021
Up to 28 years old
Prizes of total value of max. 12.000 €
The competition is targeted at young Marimba Soloists and is aimed at five age groups up to 28 years old.
The Marimba Festiva Competition is an online competition.
Marimba Festiva
International Marimba Festiva Congress and Competition @ "Bamberg 2018"
International Marimba Festiva Congress and Competition @ Bamberg 2016
International Marimba Festiva Congress and Competition @ Bamberg 2014