Young Stage ist eine neue Initiative des Marimba Festiva Vereins, die eine Zusammenarbeit zwischen jungen Marimba-Künstlern und Komponisten fördern bzw. unterstützen will. Wir freuen uns über Vorschläge von Veranstaltungen, die als Forum für Marimba Festiva Wettbewerbspreisträger sowie junge Vereinsmitglieder gedacht sind und zugleich Gelegenheit bieten, dem Publikum neue Marimbawerke vorzustellen.
Young Stage is a new initiative of the Marimba Festiva Association, which will encourage young marimba artists and composers to cooperate together. We look forward to all suggestions for events which are both conceived as a forum for Marimba Festiva Competition prize winners and young members of our Association and offer a possibility to present new marimba works to the audience as well.
Marimba Festiva
Youth Marimba Festiva Ensemble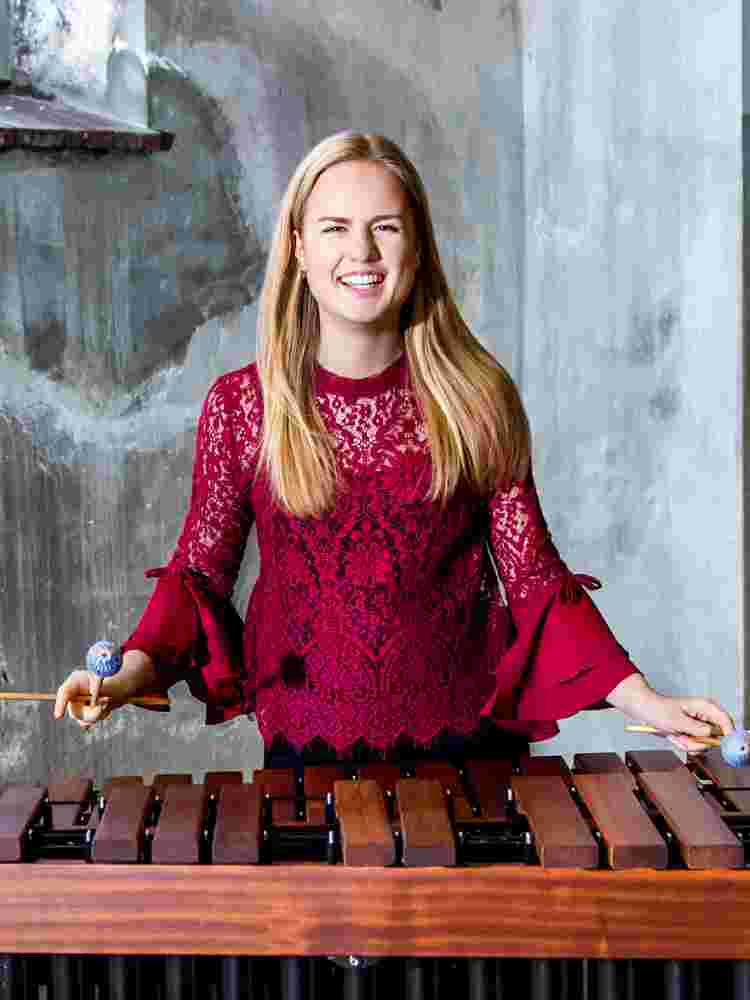 Konzeption / Concept
Um die Vernetzung junger talentierter Musiker*innen zu fördern gründet der Verein Marimba Festiva e.V. ein Ensemble für Marimbist*innen bis 15 Jahre. Vor dem Hintergrund der derzeitigen pandemischen Lage liegt der Fokus zunächst auf der individuellen Vorbereitung im Online-Unterricht, bevor die Jugendlichen in einer Präsenz-Probe aufeinandertreffen. In Abhängigkeit von den die Pandemie betreffenden Regulierungen werden die Ergebnisse online oder live in Nürnberg präsentiert.
To promote the networking of young talented musicians, the Marimba Festiva e.V. association is founding an ensemble of four marimbists up to 15 years of age. Against the background of the current pandemic situation, the project initially focusses on individual preparation in online lessons before the musicians meet in a live rehearsal. Depending on the pandemic regulations the results will be presented in a concert in Nuremberg at the beginning of 2022.
Leitung / Musical Instruction
Das Ensemble wird von Charlotte Hahn (24, Köln) geleitet. Neben solistischen Auftritten ist sie in verschiedenen Besetzungen als Marimba-Duo, u.a. mit Katarzyna Mycka, sowie im zehnköpfigen indisch-deutschen Ensemble MASAFAT zu hören. Seit 2020 studiert Charlotte klassisches Schlagwerk im Masterstudiengang bei Professor Lukas Böhm an der Hochschule für Musik und Tanz Köln.
Die Leiterin des Ensembles stellt gemeinsam mit Marimba Festiva e.V. das Ensemble zusammen, studiert im digitalen Einzelunterricht die Stimmen der Ensemblemitglieder ein und führt eine Präsenzprobe durch, die auf eine Präsentation im Online-Format oder live hinführt.
The ensemble is directed by Charlotte Hahn (24, Cologne). In addition to solo marimba appearances, she regularly performs in various line-ups as a marimba duo, including performances with Katarzyna Mycka, as well as the ten-member Indian-German ensemble MASAFAT. Charlotte is currently studying classical percussion in a master's course with Professor Lukas Böhm at the Cologne University of Music and Dance.
Ausschreibung /Announcement
Auf die Gründung des Ensembles wird online aufmerksam gemacht, sodass interessierte Jugendliche sich selbstständig oder auf Empfehlung hin als Ensemblemitglied bewerben können.
Online attention is drawn to the establishment of the ensemble, so that interested young people can apply to become members of the ensemble either independently or on recommendation.
Auswahl / selection
Die Ensemblemitglieder werden über ein Videoauswahlverfahren von der Ensembleleitung und Marimba Festiva e.V. ausgewählt. Hierzu werden die Marimbist*innen gebeten, einen musikalischen Werdegang sowie ein kurzes Video (5-10min) einzusenden, aus dem ihre technische und musikalische Qualifikation hervorgeht.
Einsendeschluss: 31. Oktober 2021
The quartet is put together by the musical instructor and Marimba Festiva e.V. via video selection. For this purpose, the marimbists are asked to submit a musical biography and a short video (5-10 min) showing their technical and musical qualifications.
Submission deadline: October 31, 2021
Gebühr / Fee
Die Teilnahmegebühr beträgt 130€ / 80€ (Ermäßigung für Marimba Festiva Mitglieder) und beinhaltet zwei individuelle Online-Unterrichtsstunden à 45 Minuten, zwei Präsenz-Probentage mit dem gesamten Ensemble in Vorbereitung auf das Konzert, sowie die Präsentation der erarbeiteten Werke im Rahmen eines Konzerts Anfang 2022 in Nürnberg.
Eventuelle Fahrtkosten werden von den Teilnehmer:innen getragen.
The participation fee is 130€ / 80€ (reduction for Marimba Festiva members) and includes two individual online lessons of 45 minutes each, two live rehearsal days with the entire ensemble in preparation for the concert, as well as the presentation of the rehearsed works in a concert in Nuremberg at the beginning of 2022.
Any travel costs will be borne by the participants.