Young Stage ist eine neue Initiative des Marimba Festiva Vereins, die eine Verbindung zwischen jungen Marimba-Künstlern und Komponisten herstellt. Wir freuen uns über alle Veranstaltungsideen und Orte, die als Podium für eine künstlerische Leistung und zugleich als Präsentation des neuen Marimba-Repertoires dienen.
Young Stage is a new initiative of the Marimba Festiva Association, which creates a bond between young marimba artists and composers. We look forward to all event proposals and places that serve as a podium for an artistic achievement and at the same time as a presentation of the new marimba repertoire.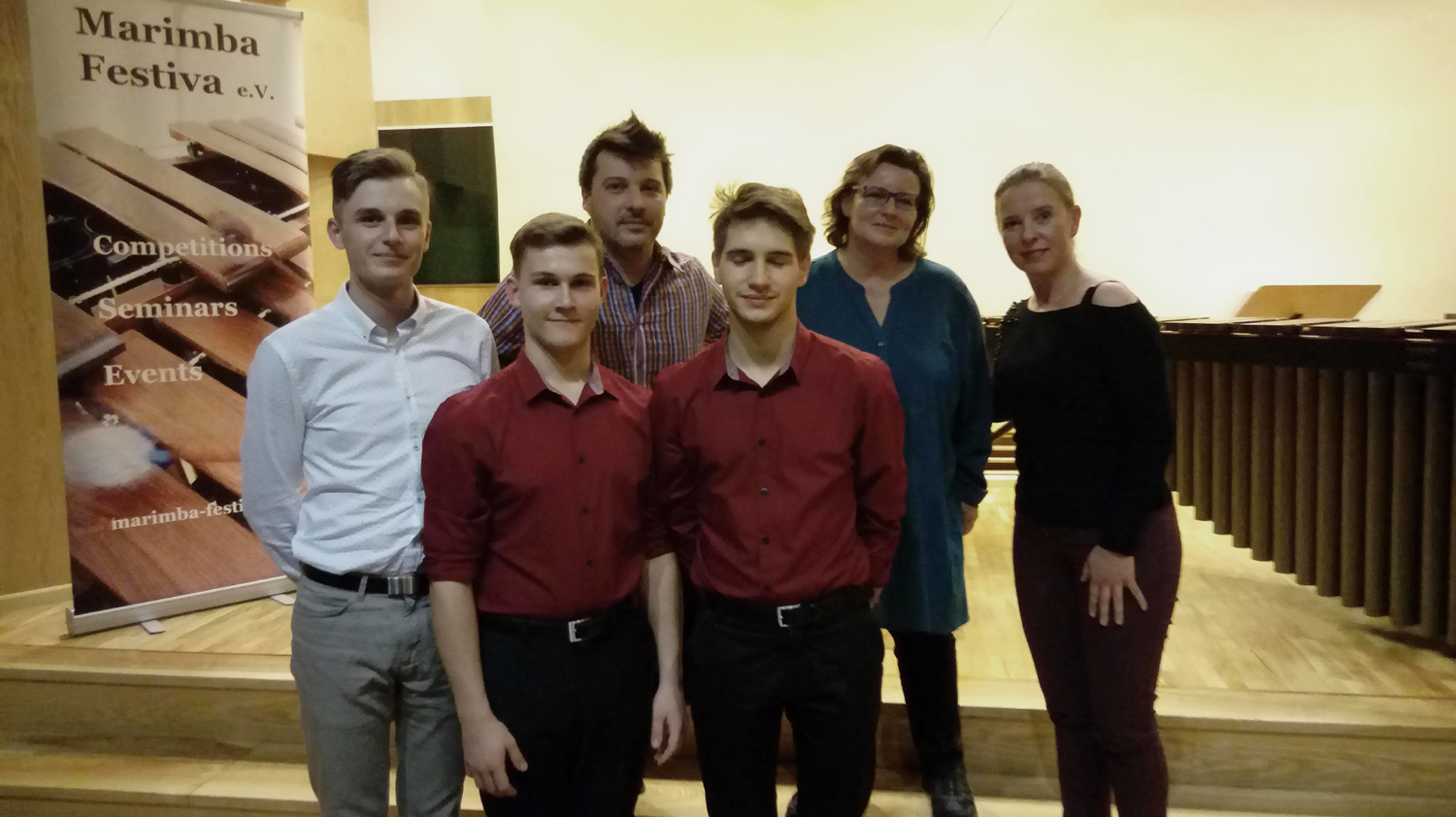 Opole/Pl 2018
Komponistin
Anna Ignatowicz

stellt ihre Werke für Marimba in Opole vor

Anlässlich des 27. Drumfest-Festivals in Opole (Polen), des Marimba- und Vibraphonwettbewerbes sowie der Uraufführung ihres Konzertes für zwei Marimbas (ebenfalls im Rahmen des Festivals) stellte am Donnerstag, dem 25. Oktober, die Komponistin Anna Ignatowicz-Glińska ihr Schaffen für Stabspiele vor. Die Veranstaltung wurde durch Marimba Festiva e. V. unterstützt und fand im gut gefüllten Kammersaal der Staatlichen Musikschule in Opole statt.

Mitgewirkt haben Jurymitglieder Katarzyna Myćka und Svet Stoyanov, die "Passacaglia" für Marimba und Vibraphon aufführten sowie die Teilnehmer des Wettbewerbes Paweł Dyyak, Jakub Kołodziejczyk und Igor Sikorski Schüler der Staatlichen Allgemeinbildenden Musikschule Frédéric Chopin in Krakau, die die Präludien für Marimba und Vibraphon spielten. Der letztere Beitrag war eine inoffizielle Erstaufführung der frisch beim Norsk Verlag in Oslo erschienenen Werke.

In kurzer Ansprache erläuterte die Komponistin die Entstehungsumstände, ihre kompositorischen Ansätze als auch die Herausforderungen, denen sie sich in ihrer Arbeit gestellt wusste. Anschließend entwickelte sich ein Gespräch unter der Teilnahme der Aufführenden und des Publikums, während dessen diverse Aspekte der Marimba- und Vibraphonkompositionen von Anna Ignatowicz-Glińska diskutiert wurden.
Composer
Anna Ignatowicz

presenting her works for marimba in Opole

During the 27th "Drumfest-Festival" in Opole (Poland) with its competition for marimba and vibraphone, and due to the world premier of her concerto for two marimbas, composer Anna Ignatowicz-Glińska presented her works for mallet instruments. We were happy to supported this event, which was well-attended, filling the whole hall at the music school in Opole.

Jury members Katarzyna Myćka and Svet Stoyanov performed "Passacaglia" for marimba and vibraphone, followed by competitors of the Marimba Festiva Competition 2018, Paweł Dyyak, Jakub Kołodziejczyk and Igor Sikorski, who presented the latest preludes for marimba and vibraphone – this presentation being the inofficial world premier of these works, which had just been published by Norsk Verlag/Oslo.

In a short speech, Anna Ignatowicz-Glińska gave interesting details about her compositions regarding their origin and purpose, followed by a conversation and discussion with the composer Anna Ignatowicz-Glinska soloists and the audience.
Written by Stanislaw Kokoszka · Translated by Christine Kribbel