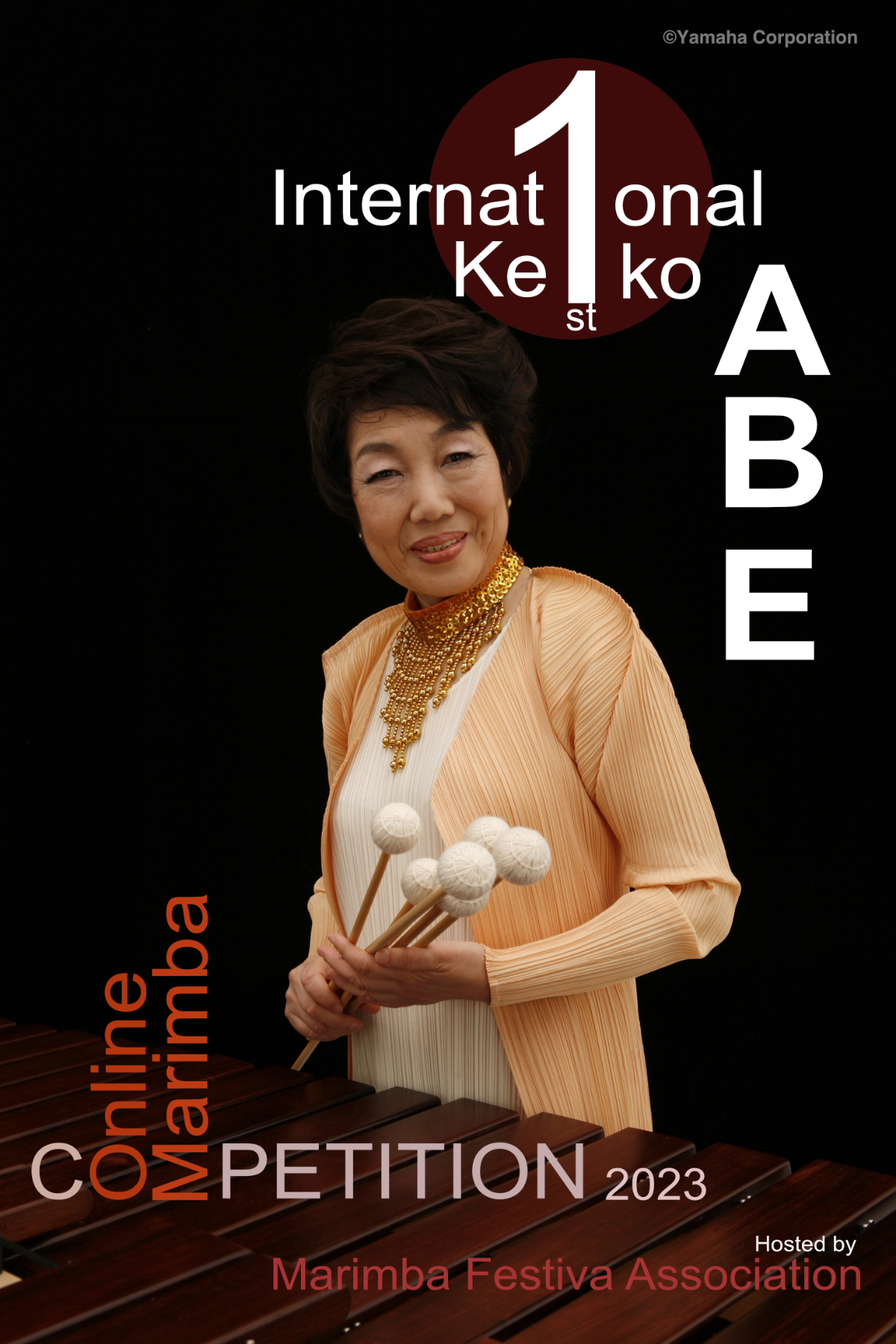 1st International Keiko Abe Marimb Online Competition

Marimba Festiva
Further information will be available from December 20th 2022
Marimba Festiva
Marimba Festiva
Marimba Festiva
I have spent my life with the marimba.
Marimba Festiva Association, led by its president, Mr.Slawomir Mscisz, is an organization that is dedicated to the same philosophy that I have for the marimba. They have already held online competitions, so they have provided the best possible organization for this competition.
I have also known Mr.Fumito Nunoya, one of the musical directors of the Marimba Festiva Association, for a long time as a fellow musician, and I have a deep sense of trust in him because I feel that his musicality and philosophy are the same as mine. It gives me the greatest pleasure to entrust the president of the jury to him, who truly understands the heart and essence of my music, and I think I have obtained a strong and suitable person to further enhance the reputation of the marimba in the future.
For me, the marimba is a way to "talk about my heart," and my works are like writing in my diary, in which I have spun my honest emotions of the moment onto the sound of the marimba.
I thought it would be very presumptuous to hold a competition based on my works only, but with the hope that I can contribute to the future development of the marimba by encouraging the next generation of marimbists to " talk about their hearts" on the marimba through my works, so, I am delighted to announce that we will be holding this competition.
I am truly looking forward to hearing your music, which will be the next generation.
Keiko Abe
私はマリンバと共に人生を歩んできました。
Marimba Festiva Association は、会長であるSlawomir Msciszさんを中心として、私のマリンバに対する想いと志を同じくする理念を掲げた活動を行っています。そして、彼らはすでにオンラインでのコンクールの開催実績もあり、今回のコンクール開催にあたって最高の体制を整えてくださいました。
また、Marimba Festiva Associationの音楽監督の一人でいらっしゃる布谷史人さんとは、演奏家として長いお付き合いがあり、彼の音楽性と理念は私と同じものであると感じ、深い信頼の念を抱いています。私の音楽の本質を理解してくださっている布谷さんに審査委員長をお任せできたことは、未来のマリンバの評価をより高めるための適任者を得たようで、このうえない喜びです。
私にとってのマリンバは「心を語る」ためのものです。
私の作品だけでコンクールを開催するなんてとてもおこがましいと思っていましたが、マリンバで、私の作品を通じて「心を語る」ことを次世代の音楽家たちに取り組んでもらえれば、マリンバの未来への発展に寄与できることもあるのではないか、という希望を込めて、このコンクールを開催させていただく運びとなりました。
次世代を担う皆さんの音楽を聴かせていただけることを心から楽しみにしています。
安倍圭子